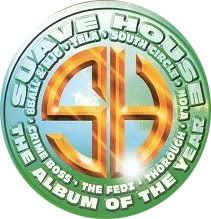 Here is the continuation of the 2006
Tony Draper interview I just posted over at my XXL blog
. If you want to get brought up to speed on what it is I'm doing, please check out what I started and comeback. A briefing will be too too long. Ok, enough of me, here is the rest...
Check back later for the actual Suave House piece me and Jacinta Howard worked on.
----------------------------------------------------------------------------------------
Tony Draper Interview, 2006
The age range of people that are going to see Suave House II may not even be very familiar the original Suave House. Give them the history on the company.
Suave was something that I created, I started. Initially I just was wanting to take some rappers and put them out. I wanted to be a DJ but that wasn't working. So I just started having rappers rap over instrumentals. But doing that gave me some game. So I started Suave at 16 years old. I had Big Mike signed, he was the first real artist I had. But I was so young, I didn't have no contract. I had his demo and it was hot that a mah fucka. But I had to charge that to the game. Where I come from a man's word was everything. So when he went to Rap-A-Lot, I wasn't mad at James [Prince]. I was mad that Mike wasn't no stand up nigga. He was my friend. I saw talent in him. Why ain't you see talent in me? I'm a young nigga, taking penitentiary chances to get you in the studio. I realized at that age that I had to get my business straight. So me and my nigga JB, he was running the South West and Houston, so we had the shit from Kentucky to Texas. So the next time we stepped out it was gonna be right. I was in Memphis and saw 8 Ball & MJG on stage, but they had 60 niggas on stage with them. I saw something special about them, the way these niggas controlled the crowd. They were fucking with some bullshit company OTS records so I stepped to the owner and said "what's up with you?" He was playing like he was a big nigga, but he was a lame duck. So I took them from him. We made Coming Out Hard, in my house. I moved them in. Any product you trying to sell, you gonna have to have a very aggressive marketing campaign, this game costs money to be in. So I made sure I was always straight.
At that time it was just me Rap-A-Lot, Ruthless, and Luke Records. Those were the only independents. I just kept grinding and Coming Out Hard popped. Then I kept backing it up more quality artists. We had five gold albums with 8Ball & MJG. One platinum with Ball solo. Tela went gold. But I wanted to go to the next level. Niggas loving us, but we ain't going to the next level. It seemed like artists had different plans, so I was firing niggs left and right. So they started talking to the artists like some little girls. If you a man talk to a man. Next thing I know, Tela wanna go to Rap-A-Lot. I told him you ain't gonna do well, no one knows how to promote you like me. He had 3 albums and he ain't do shit. They had a power house there, but no one knows him like me.
That's why 8Ball don't sound like he used to when he was with me. After all that shit, Ball wanna go to Bad Boy. I never knew that the artists were upset. They never told me. I gave Ball and new house and new car and now I'm talking to his lawyers and telling me they don't want to be on Suave no more. I ain't seen Ball in 4 years, he changed all the numbers. I can't blame them though. They don't come from where I come from I can't expect them to have loyalty, they don't know what loyalty is. That was money I spending from niggas who bled from the hustle. For you to be so disloyal, that says nothing good for your character. I don't talk street, I live street. So when we was getting ads in The Source and television commercials, that was penitentiary chance money. All I ever asked for was loyalty. I don't handcuff a nigga like a hoe. If you have integrity, show it. Live by it.
Have you had contact with the former Suave artists in recent years?
I haven't seen none of them niggas. Me and Crime Boss speak occasionally. He's my cousin's best friend. That's how Crime Boss got on Suave. Crime Boss is a good dude. Him and Mr. Mike the only ones I got respect for. When Mike wanted to leave, he made sure I got compensated. I respect that he made sure that happened.
I'm not bitter. Its just when I see them, I ain't gonna fuck with them. I'm just gonna do me. I'm just gonna take steps, and the steps I take the real niggas will embrace it and so will the artists. Like Big Duke [former Suave House artist who is now a member of Boyz N Da Hood], that's my nigga. I talk to him every week, he came to me as a man and we squashed what ever was between us.
What happens to make all of your artists leave you over the years?
After they get in the game people start telling them that they got a bad deal, that I shouldn't take half their publishing from them. I was there when no one was giving them anything in '92. I didn't mistreat them. Ball and G been had nice houses and cars and shit before I got with them. But say if you catch a person in your hood that's the coldest rapper in the hood. And you say "I'll give you $100,000 to make a record but give me half your publishing." He gonna sign that shit. People need to honor the game. Stick to the contract. He ain't never had $100,000 or nothing. How is that bad business when I do the work to make it pop? I invest in the marketing/promotion, the studios you rapping in. You can't play the industry game with me, I'm a industry nigga.
That being said, what else are working on?
Me and a friend are talking about building condos in Houston.
I manage Pusha T and Malice of the Clipse. Their new album is bananas too. Everybody spitting that cocaine flow is gonna have to put that shit up.
I'm in charge of the marketing of the new Ice Cube album. It's coming out through his own label, Lench Mob records, It has Scott Storch and Swizz Beats on it. Cube is a very successful dude so it's smart for him to put up his own $2.5 million of his own money. I'm so happy for him, this is gonna be the first catalog master that he owns. It's a great day in hip hop when you see the top echelon put his own money behind it. It's dropping June 6, its so crazy.
At the same time I own all my masters too so I put my own money up to run Suave House. I don't need nobody else. It's a whole new feel. Suave been gone for 4 years. We cold as ice cubes right now. But I'ma show you how to hustle and get back on your feet in 12 months. Mark my words, Suave is gonna be back on top in 12 months.
Since you and your company laid the foundation for the South's current reign, how do you feel about the movement, the quality of music coming from it and its future?
Its cool cause we shining, but it ain't really cool cause people are taking away from what the south really is. We got niggas that spit, its a lot of great MCs, but they get over looked because folks be wanting novelty songs. Its making money but it won't stand the test of time. I make music that stands for years and listen to music that stands for years. I still bump NWA, UGK, 'Kast.
No disrespect to Luda and T.I. and the other ones coming up with them, but they ain't create the movement. There's a history you got Luke, 'Kast, Rap-A-Lot. The train been rolling, as long as they acknowledge that, everything will be fine.