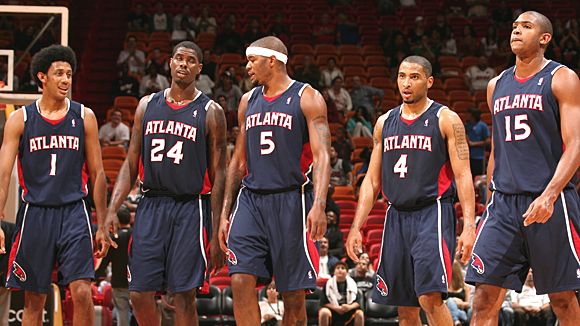 5 GAME WINNING STREAK!
My brother likes to got down YouTube memory lane like I do sometimes. He sent me a vid the other day that I vividly remember, but hadn't seen in a long time. Funny, the Hawks game last night made it appropriate for me to post it here today.
In case you didn't notice, my Hawks are on a 5-game winning streak. We beat the Toronto Raptors last night in overtime. My homeboy Matt the Mayor had me on the tickets but I couldn't make it. Too bad, he told me him and some of the players hit the streets later that night. You already know how I feel about Hawks partying, so I'm not sure if I would have wanted to participate in that anyway.
But back to the game. We beat the Raptors in overtime. The game went into overtime after a buzzer beating shot by Raptors' guard T.J. Ford was waived off. Instant replay clearly shows that the ball was still in his hand when the buzzer went off. But it also shows that the folks at the scorers table started the clock too early. So really, we cheated, again.
Part of me feels bad. But the other part of me really don't give a damn because shit, we can use every win we can get. Plus, it ain't like we committing flagrant fouls and using steroids.
Anyways, all of that gave me an excuse to post this classic Goodie Mob video, "
Dirty South
." That's how we do down here...WE PLAY DIRTY! Sand in the eyes, foot in the crotch...hahahaha.