Anyone who knows me knows that I am a lifelong Hawks fan (except for a brief stint in the post-Dominique era with the Charlotte Hornets during the Larry Johnson/Alonzo Mourning days). I've been laughed at, chuckled at and even felt sorry for. When I used to work at Rolling Out, my co-workers used think I was crazy because how I used to raise hell to get press passes to go to the games.
Well, as small as it may seem to some of you bandwagon Celtics fans, the Hawks having a winning record right now is big news to me. We haven't been over .500 this deep into the season since the 98-99 season. My team is finally starting to share the ball and cut to the basket like all NBA teams are supposed to. We beat the Miami Heat in (an unessecary) overtime last night we're on a 4-game winning streak. We have 13 wins already. Why is this such a big deal? Shied, just three seasons ago we didn't get our 13th win until the last week of the season (ooh, that shit still hurts). If the playoffs were to start today, we'd be in the 7th spot and be playing Detroit, a team I KNOW we can beat, and should have beat at least two out of three times already this season. I knew things were going to be different when we were able to beat both Dallas and Phoenix to open the season. The city is finally starting to get behind the team now too. Well, there really isn't much of a choice now, the Braves suck and the Falcons, eh...you know the story there. But, the games that I have gone too this season have been very exciting, win or lose.
Anyways, I know some of you may be thinking that I'm really tripping right now, but I don't care as of this moment my Hawks have a better record than last years Eastern Conference champs and I'm happy as hell about it. I still think we need a new coach and should give Greedy Speedy Claxton the boot, but I'm good right now. At least I see them on the court more that I do at the club nowadays.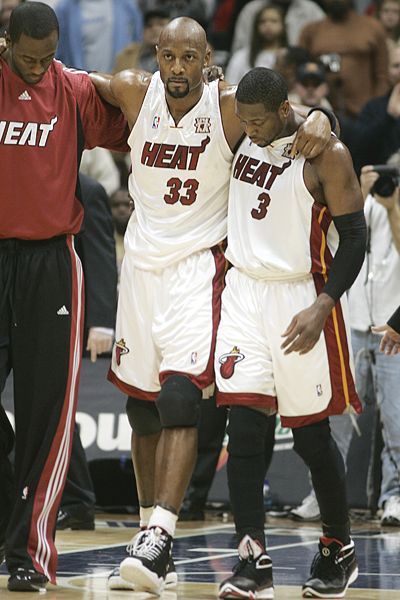 On another note, as happy as I was to see my Hawks beat the Heat, I was saddenned to see one of my favorite players and childhood role models get injured. Alonzo Mourning went down last night after his knee buckled, coming down after trying to block a shot. He's already implying that this injury may force him to
go ahead and retire
. I hate to see that, I used to want to be like 'Zo growing up. In 3rd grade I used to think I was going to Georgetown University just like him. But I got introduced to reality and trouble in high school so that dream went flying out of the window.
Anyways, get well soon 'Zo! And GO HAWKS!